Basement (and Attic and Crawlspace) Mold Can Make Its Way Through Your Home
You already know that there is not any place in your home where mold is a good thing (well. except in your cheese, beer, wine and medications made with mold), but there are some places that are worse than others.
The areas with forced air furnaces or its ductwork with mold would be one of the very worst places to have the source of a mold contamination.
The universal laws of science are pretty reliable in exerting their influence on the world. When I drop the apple, it falls, or if I let go of a balloon with warm air it is going to go up. Any place I have food and water, something will grow. So goes mold and building science.
NATURAL MOLD TRANSFER METHODS NOT RELATED TO THE FORCED AIR FURNACE
The stairs up from a basement or any other area are a chimney. Warm air goes up. (that is why we have laws about enclosing stairwells in commercial buildings). If there are plumbing runs or clothes chutes, those too would be chimneys. Mold will go from the basement into the upper areas of a home by that pathway. That is one of the processes that moves mold from the basement into the home.
The next process of moving mold is dispersion. Air molecules bounce around and in that bouncing, scatter through a bigger and bigger area of air. That is why when we open a bottle of perfume, or someone smokes a cigarette, the odor and airborne particles make their way across the room. Then those particles travel onward and upward. This process works continuously. As Buzz Lightyear says: to infinity and beyond
Mold contamination can be carried from the contaminated area to the rest of the home on objects. cloths, boxes, people, or anything else that has a surface can spread mold.
THE REAL WORKHORSE OF SPREADING MOLD CONTAMINATION THE FORCED AIR FURNACE!
Most people think of a forced air furnace (or air conditioner) as a heat or cooling distribution machine. For the purpose of this discussion, the forced air furnace is a mold distribution machine. The blower turns on and moves air throughout the building.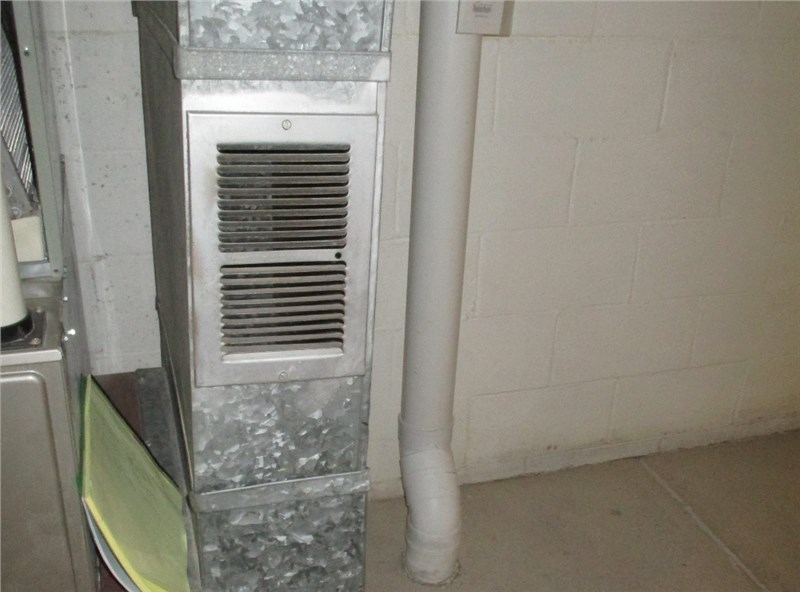 In the picture above, a grill in the return air duct pulls basement air in this home into the ductwork and blows it upstairs.
There are openings in ductwork and spaces at registers that can allow mold to be pushed or pulled through the home depending upon if they are in the supply or return air ductwork.
Hang with me as we discuss a more complicated process. It is related to the difference in flow between the supply runs and return air runs. This difference creates a pressure imbalance that can suck mold out of the walls and hidden areas of a home and bring it into the air inside the home.
If a forced air furnace or any of the ductwork that may have even a tiny opening is installed in an attic or crawl space it can bring mold contaminated air from those areas into your home. YUCK!
LOOKING NO FURTHER THAN THE SUSPECTED AREA OF CONTAMINATION CAN LEAVE YOU WITH THE SAME MOLD PROBLEM RETURNING
Question #1: How do you know if you have mold, especially if it is hidden?
Answer #1: If there is an odor or if there are sick people or pets in a home, consider you might have mold.
Question: #2: How do you know if the hidden areas are sources of mold?
Answer #2: Have a professional who understands the complicated physics of a home and the science of mold check your home, your whole home, not just the area where you believe there is mold and the conduct the proper testing. Not all professionals who test meet the standard of professionalism that you should demand.
We spend a lot of time and energy on continuous training and education. It is what WE BELIEVE YOU AND YOUR LOVED ONES NEED AND DESERVE.