Green Home Solutions Corporate is Helping its Community Thrive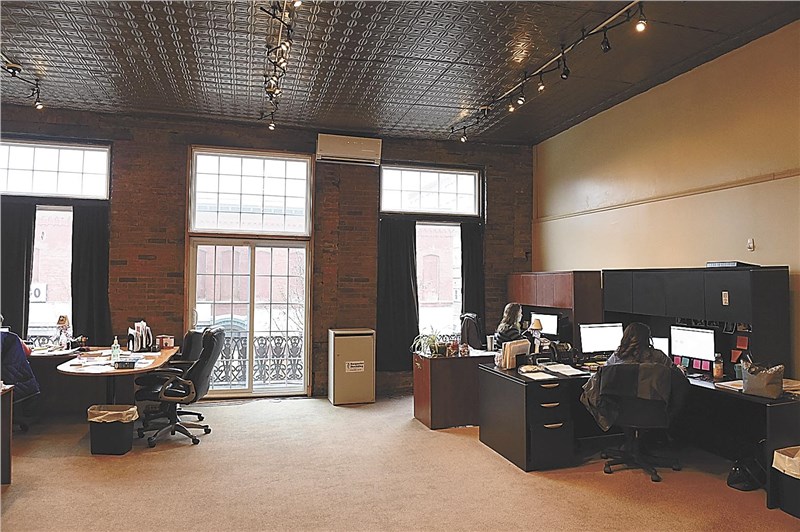 Altoona Mirror photo by J.D. Cavrich/The office operations and finance area of Elevation Management Group known as EMG Brands at 1014 Pennsylvania Ave., Tyrone, is housed in one of the first properties purchased by Russell Property Holdings, owned by Tyrone native John Russell. He recently purchased three more downtown Tyrone buildings to house his businesses.
TYRONE PA The 1000 block of Pennsylvania Avenue is taking on a new look.
Russell Property Holdings, owned by Tyrone native John Russell, recently purchased three downtown buildings 1010 and 1018 Pennsylvania Ave. and 1004 Blair Ave. to go along with the 1014 Pennsylvania Ave. building purchased in 2014.
Russell, 31, plans to create up to 100 new jobs at his numerous business ventures, which will be housed in these buildings.
We are investing one million dollars between purchasing and remodeling the buildings, Russell said.
Two of the buildings had been abandoned with the windows boarded up. An internal construction crew has been hired to renovate the spaces to provide additional space for business growth.
Shortly after graduating from Tyrone Area High School in 2004, Russell moved to Pittsburgh and worked in two different phone stores.
I quickly realized I wanted to own my own business, and in 2008, I opened a Verizon Wireless Zone store in Tyrone, Russell said.
Today, he owns 25 Wireless Zone franchises across five states, and his corporate headquarters was the first business to occupy the Tyrone downtown building in 2014.
After successfully growing his Wireless Zone stores, Russell said he was propositioned by a previous business associate to explore a new investment. In 2014, he invested in a local Green Home Solutions territory, a national franchise with 140 locations in the United States.
After operating the territory for a few months, he realized the huge potential in this company. The owners of corporate Green Home Solutions approached him and offered him the CEO position. He moved his family to Connecticut and became CEO and owner at the corporate level.
After a short time in Connecticut, in October 2016, Russell decided to move the corporate headquarters to his hometown of Tyrone 1014 Pennsylvania Ave. He hired an additional 25 staffers to join the team that was already supporting his phone business.
With several businesses now housed in one location, a management company EMG Brands was created to provide accounting, financial and operational support for each entity.
In December, to support the Green Home Solutions franchises, the EMG Call Center was launched. Plans are for the call center to be housed in the renovated warehouse 1004 Blair Ave. and employ an additional 60 operators in the next few months.
Today, the 1014 Pennsylvania Ave. building at one time home to Patrice's Boutique is home to EMG Wireless (the 25 Verizon Wireless franchised retail locations), Green Home Solutions, Russell Property Holdings, EMG Brands the management company for all of Russell?s businesses and the EMG Call Center, which supports all businesses in our portfolio and our franchisees, Russell said.
The 1018 Pennsylvania Ave. building, which housed Rhonda?s Retreat, now holds EMG Print Co., a wholesale printing business which does work for all of our internal businesses and a few wholesale accounts, Russell said.
The 1010 Pennsylvania Ave. building, which housed Sammy's Pet Shop, is being converted into office spaces for Russell's employees.
Russell said he has a long-term vision for downtown Tyrone.
This entire block will have businesses in each storefront with 150-200 jobs. People will have career opportunities that pay well. The goal is to create jobs and revitalize the heart of Tyrone, which is Pennsylvania Avenue, Russell said.
Our vision is to create a downtown area that will attract new professional families to relocate to Tyrone, he said.
Our 2017 growth plan includes adding several new ventures as well as expanding current businesses. Within the next few months, we will have job offerings for 75 plus employees. We will be providing career opportunities for call center operators, finance staff, marketing experts, administrative support staff and more.
Russell said he could have picked State College to serve as headquarters for his businesses.
?We decided to come here. We knew how much of an impact 100 jobs would mean. To fix up Pennsylvania Avenue, to make an impact in a small community we have ties to is very attractive. We knew Tyrone was a perfect location to continue our growth. Tyrone is easily accessible from many surrounding communities and has a highly ranked school district, Russell said.
Rose Black, executive director of the Tyrone Area Chamber of Commerce, is pleased with Russell's efforts.
I think it is an excellent idea. He is talking about bringing other people into the community as well. I think it would spur growth of other small businesses and attract new people to move into the area, Black said.
Steve McKnight, president and CEO of Altoona-Blair County Development Corp., said Russell represents the next generation investor, entrepreneur and pioneer.
He and others like him increasingly see the value in mountain towns like Tyrone and the benefits of living and working in communities like ours. We have reached a point in technology and communications platforms that businesses like John's can reach any market in real time. So why not live where you want, enjoy life and do it cost effectively, McKnight said. The next generation want to be a part of transformative projects. When you can do it in your hometown like John has, it can produce a win-win for everyone. This is big and I believe it is just the beginning for Tyrone, Altoona and all of our mountain main street communities.
ABCD Corp. is assisting Russell with his projects.
We are working to assist with his building renovation and talent attraction efforts by telling his story and celebrating this type of homegrown leadership. It is the future and a great example of our Think Big approach, McKnight said.
Mirror Staff Writer Walt Frank is at 946-7467.