Mold Prevention After Your Home Floods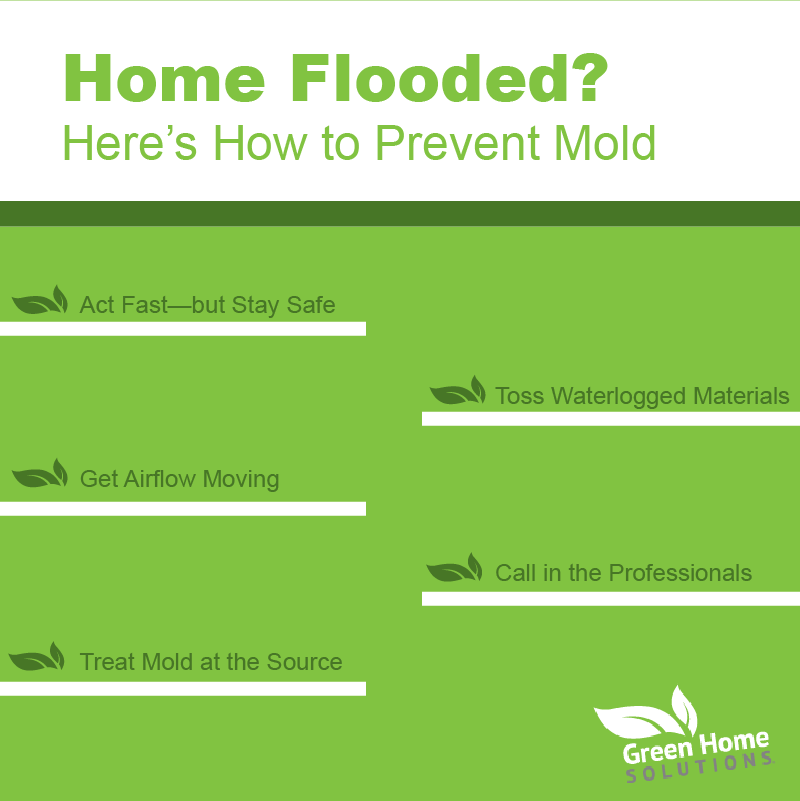 There are many disasters that can strike a home, but flooding is at the top of the list when it comes to nightmare situations for homeowners. Just this year alone, countless Americans across the country dealt with severe home flooding as a result of hurricanes and other disasters, and knowing what to do after the flood has occurred is just as important as prevention!
One of the top concerns that need to be dealt with after a home flood is the possibility of mold and bacteria growth. A wet environment is the ideal place for mold to take up residence, and a few mold spores can quickly build into a hazardous situation that has the potential to affect the health of your family and the overall integrity of your property.
So, what steps can you take to prevent mold from turning a flood into an even worse problem?
At Green Home Solutions, we're the experts in home mold remediation, testing, and prevention, and we've put together the following list of tips to help you avoid future mold problems after the unexpected occurs:
Act Fast but Stay Safe: The first 24 to 48 hours after flooding are critical, but that doesn't mean that you want to rush into the unknown blindly! Take precautions to ensure that your home is safe and secured before heading inside, and once you're cleared to get to work, start by assessing the full extent of the flood damage.
Toss Waterlogged Materials: As a general rule, anything that is upholstered or located below the water line of the flood needs to come out of your home to prevent moisture from turning into a mold haven. Pull out carpeting, remove furniture, and take out any affected belongings as quickly as possible just be sure to document everything along the way!
Get Airflow Moving: The key to preventing mold is to dry out the environment, and you can get that process started by running high-powered fans, opening windows, and keeping air flow moving throughout all of the affected areas of your home.
Call in the Professionals: Mold isn't something that you want to mess around with, and if you are dealing with the aftermath of a flood, it's best to call in professional reinforcements. Green Home Solutions can identify any mold issues, provide effective testing, and get you started back on the path to a clean, healthy living space.
Treat Mold at the Source: If mold has already begun growing in your home, you need to mitigate the problem not just cover it up. Our professionals can effectively treat mold spores down to the source, and we'll help you come up with a detailed plan for remediation and protecting your property from top to bottom.
Finding your home devastated after a household flood is hard enough, and taking the necessary steps to prevent hazardous mold is one way that you can start rebuilding and getting life back on track. At Green Home Solutions, we understand that fast, efficient, and affordable services are a priority when dealing with flooding, and we're here to offer you the comprehensive support you need.
Whether you're currently dealing with household mold or want to put preventative measures in place, give us a call today to learn more about how we can help you protect your greatest investment from the damaging effects of mold, mildew, and odor after a flood.