Spring Flooding Brings Mold!
Spring showers sometimes leave behind a bit more than flowers. The spring rain and flooding can also provide a perfect environment for mold to flourish. While unpleasant to think about, this isn't something to ignore. Instead, learn how to protect your home, so mold won't have a chance to take hold!
Control the Moisture
You can't control the rain, but you can take steps to control the moisture level inside your home. Here are a few ways you can do that:
Clean air conditioner drip pans regularly
Inspect gutters to be sure they are not in need of cleaning or repair
If you notice condensation forming, consider running a dehumidifier or even installing a whole house dehumidifier.
Make sure the bathroom and kitchen have proper ventilation.
Mold Grows Fast
Once mold gets a foothold, it can grow very fast. Where there was no visible mold one day could be covered in mold the next, but that doesn't mean you should wait for visible signs to take action. If you notice a musty smell, or if your home experienced any flooding or leaks, it's a good idea to have a professional mold inspection.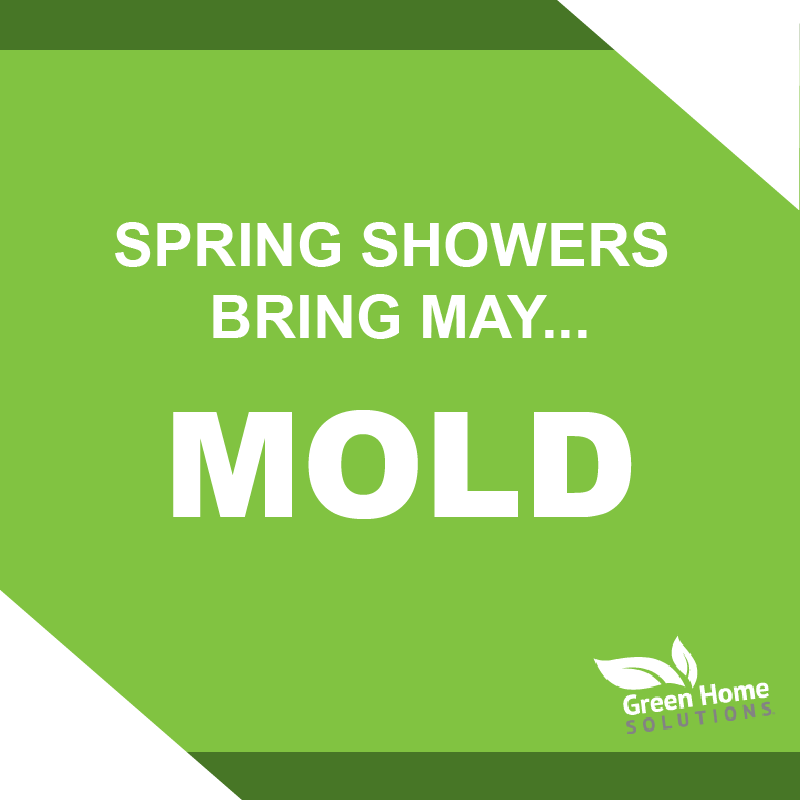 Put Your Mind at Ease with a Mold Inspection
Even if you're not sure you have mold, a no-obligation mold inspection from Green Home Solutions can put your mind at ease. Our Green Service Experts will walk through your property to identity moisture problems, examine your home's ventilation, and more. If we do find mold, we'll provide a remediation plan to take care of the problem quickly.
Mold Isn't the End of the World
No one wants to learn that they have mold in their home, but Green Home Solutions can get rid of it fast with our EPA registered products. Our ultra-fine mist penetrates surfaces to find mold and kill it without the need for messy and expensive demolition. We're committed to using environmentally-conscious products instead of harsh chemicals, and we guarantee our results!
Don't let mold take the joy out of spring! Contact Green Home Solutions to schedule your no-obligation mold inspection and ensure the air in your home is clean and healthy! Give us a call, or fill out our online contact form today!