The Green Home Process
Mold. That four-letter word sums up a homeowner's worst nightmare, and figuring out how to handle the issue safely and effectively is a top priority. While some homeowners resort to DIY methods, this type of treatment rarely gets to the root of the problem and can lead to much larger issues down the road. Whether your damp basement is growing mold in dark corners or you stumbled across dreaded black mold in your property, the first step to getting your home back to a healthy, safe state is working with a professional team of mold remediation experts.
That's where Green Home Solutions comes in!
Traditional mold remediation typically involves caustic chemicals, lengthy treatment plans, and messy demolition. Not to mention, the expense of most mold removal companies can scare off homeowners from the start! At Green Home Solutions, our process is entirely different, and our mission revolves around providing natural, effective, and affordable mold removal that eliminates the problem at its source.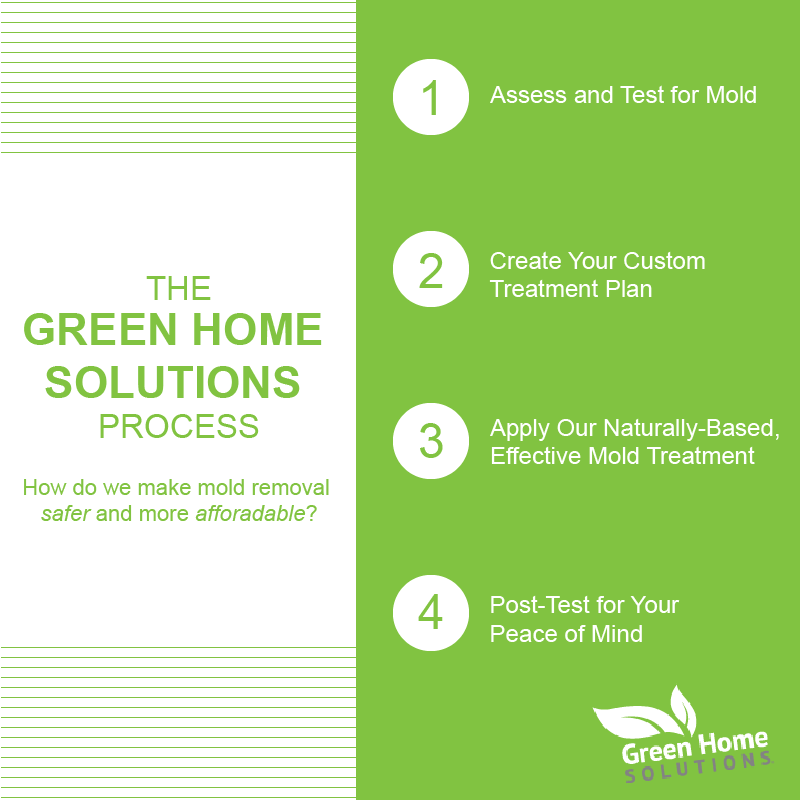 How exactly is the Green Home Solutions process so different? Check out this step-by-step breakdown of how we tackle any size mold issue in the home:
1.ÿMold Assessment and Testing
The first step in treating mold is knowing exactly what it is that you're dealing with. To get a better understanding of your situation, one of our skilled technicians will perform a visual mold assessment of your property. If needed, we may also recommend air quality testing to determine whether airborne impurities could be affecting your family's health.
2. Custom Treatment Plan?That Won't Break the Bank!
If we've found mold in your home, don't worry! Our next step is developing a treatment plan and quote that is customized to the exact services you need. Our ACAC and IAC2-certified experts develop the plan based on industry guidelines to correct the problem whether that means you need air scrubbers, moisture containment, or treatment with our natural products.
3. Safe, Effective Mold Treatment
Your home is your greatest investment, and Green Home Solutions treats it with the care and respect it deserves! All of our EPA registered products are natural, safe, and highly effective?even for use around children and pets! Treatments take only hours to complete, are guaranteed to be effective, and won't require us to tear apart your home.
4.ÿPost-Testing for Your Peace of Mind
Green Home Solutions stands behind our remediation services, and we want you to be just as confident in the effectiveness of your mold removal plan. Unlike other companies that test homes still under containment, we offer optional, independent testing 3-4 days after treatment so you know your mold problem is eliminated.
Having mold in your home not only takes down the value and comfort of your property, but it also can have a negative effect on the health of your family. So don't rely on ineffective, costly methods to handle your mold problem when there's another way! Just call Green Home Solutions today, and we'll walk you through each step of the process for getting your home back to being safe and mold-free.