Tips for Preventing Mold After Remediation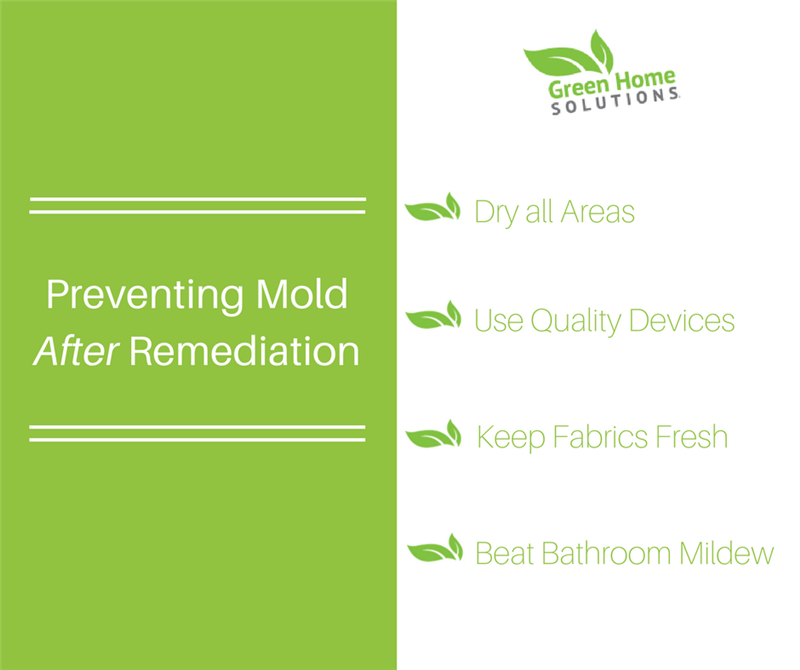 Mold is a homeowner's worst nightmare, especially when discovered and removed multiple times! At Green Home Solutions, we offer complete mold remediation services that go beyond the initial mold and odor removal. To help make sure mold doesn't come back, we want to provide you with some simple but very effective tips!
1. Dry it Up.
Damp or high humidity areas such as basements and crawlspaces are mold havens that need frequent inspections. If you notice any standing water, clean it up right away. Wet areas can develop mold and mildew growth in just 24 to 48 hours, so if you've experienced recent flooding or water leaks, it's important to dry the areas fully right away. The NADCA recommends hiring a certified mold inspector in the event of flooding, just to make sure your home is free of all mold. To prevent these issues before they start, take measures to keep rainwater from entering your home and consider purchasing dehumidifiers and fans for damp spaces.
2. Use Quality Devices.
When it comes to purchasing a dehumidifier for your home, it pays to shop around and make sure you are getting a quality product. Paying a little extra is nothing compared to battling mold and mildew later on. You can also reduce mold growth with fans and proper ventilation, especially during hot months. You may also pre-treat mold-prone areas like ceiling tiles, drywall, and showers by applying vinegar one to two times per week. This creates an acidic environment that can prevent mold growth.
3. Beat Bathroom Mildew.
Due to the moisture found in bathrooms, mold growth can be all too common. To combat this problem, keep your bathroom well-ventilated with an exhaust fan. You should also be sure to dry all surfaces after bathing or showering, and choose shower curtains that dry quickly and are easy to clean. Should your shower curtain begin to mildew, you can replace the curtain or clean it using color-safe bleach, warm water and liquid disinfectant, or salt water and lemon juice.
4. Keep Fabrics Fresh.
When preventing mold, don't forget fabrics! Carpets and tapestry-covered furniture can lead to a serious mold problem if they are not kept clean and dry. If you notice mildew growth, take the carpet or furniture outside to dry in the sun and call a professional for proper cleaning and air testing, just to make sure you are not dealing with a bigger problem.
Keeping your home safe, comfortable, and mold-free is possible with a little preparation and prevention! If you have any questions about how to prevent mold from growing in your home, of if you suspect a mold problem, contact Green Home Solutions today for effective, plant based mold removal!