With a little knowledge and preparation, you can have a healthier and safer household this winter.
The place to start the search for health risks is looking at changes you may have made to your home. How moisture and air move through your home can be effected by changes in furnace systems, windows, doors or insulation. Building additions and interior french drains can also change the nature of the indoor environment. If you had any of those changes to your home, you need to have a second look at the indoor environment.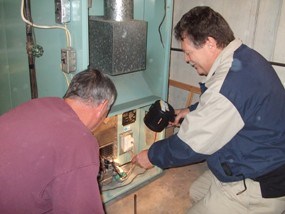 Furnaces need checked by a qualified, expert furnace service professional each heating season.
There is a reason for all the descriptive qualifiers in front of the word service professional. Many service companies will only check if the furnace turns on. They often do not check each of the critical issues relating particularly fossil fueled furnaces.
Heat exchangers will eventually fail, gas leaks occur as the pipe sealant dries, condensate lines can leak and damage a furnace. Many times, the vent system has deteriorated or more amazingly, never been installed properly in the first place. Over the years, I have found countless furnaces that have had undiagnosed defective heat exchangers. I have walked into a furnace room and without even pulling out a single tool, observed gas leaks, sewer odor from defective condensate lines, and blocked or damaged vent systems.
When a mid-range efficiency furnace is installed that uses interior air as combustion air, gas hot water tank and gas dryer vent gases can be pulled back into the home from those venting appliances.
Gas hot water tanks are another common source of indoor environmental issues.
This is particularly true in cold weather. Oversized chimneys will not properly vent when cold. When a high efficiency furnace is installed, the hot water tank usually needs to be connected to a flue liner, which is a smaller vent. In as many as 20% of the new furnace installations that I have inspected, that change was not made. The reason is that the liner needs installed from the roof and costs time and money. Not installing that system makes it possible to give a lower bid on a furnace installation job. The true cost of that omission of the liner is flue gases staying in the home and presenting a health risk to the occupants of the building.
Stored materials are often a hazard.
We often bring stored toxins into the home. The can of gasoline, the pesticide for your yard, the damp and moldy furniture cushions and the super-duper cleaners all make their way into the building envelope for storage in winter.
The simple recommendation is to not store any chemicals in the home, particularly when someone sensitive to these products lives there. An outside storage shed is one solution. Properly disposing of the products is another solution.
When cold weather comes, pests and other animals think of your home as a safe and warm place to live.
Mice, rats, birds, bats and squirrels are some of the animals found in homes. I have also found ground hogs and shrews in homes. When animals pick your home as there winter retreat, your home becomes their bathroom. If they pass away, it can also become their mausoleum. The result is odor and contaminants that can make a home smell bad and unhealthy.
The bottom line is that we are going to close our homes, schools and workplaces tight as a drum to save energy and stay warm. If you have the symptoms of sick building syndrome or notice an odor, look around for a problem. If you can't find the cause, call a professional to help you. Good health is a precious gift that we do not want to squander.