What is My Home Mold Doing to Me?
Mold is one of those words that tend to strike fear into the heart of homeowners, but the unsightly appearance and odor of mold growth in the home only scratches the surface of the dangers that it can bring to your indoor living space. More than just a nuisance, any problems with mold growth need to be taken seriously to protect your family from long-term health issues.
First things first before you decide what to do about mold, you need to figure out exactly what you are dealing with. While some forms of mold are obvious just by taking a look around dark, damp corners of your property, you also need to be aware of other common signs that mold may be growing within your home, including:
Musty and unpleasant odors
Dampness and moisture build-up
Staining on floors, walls, or ceiling
Visible mold colonies
Onset of respiratory symptoms
If you find mold in the basement, crawl space, or other less-than-obvious areas of the home, it can be tempting to put off dealing with the expense and hassle of remediation. However, this is never a wise idea! At Green Home Solutions, we believe that all homeowners should be armed with the information needed to understand exactly what mold can do to the health and safety of your family, and that starts by understanding the proven risks of mold exposure.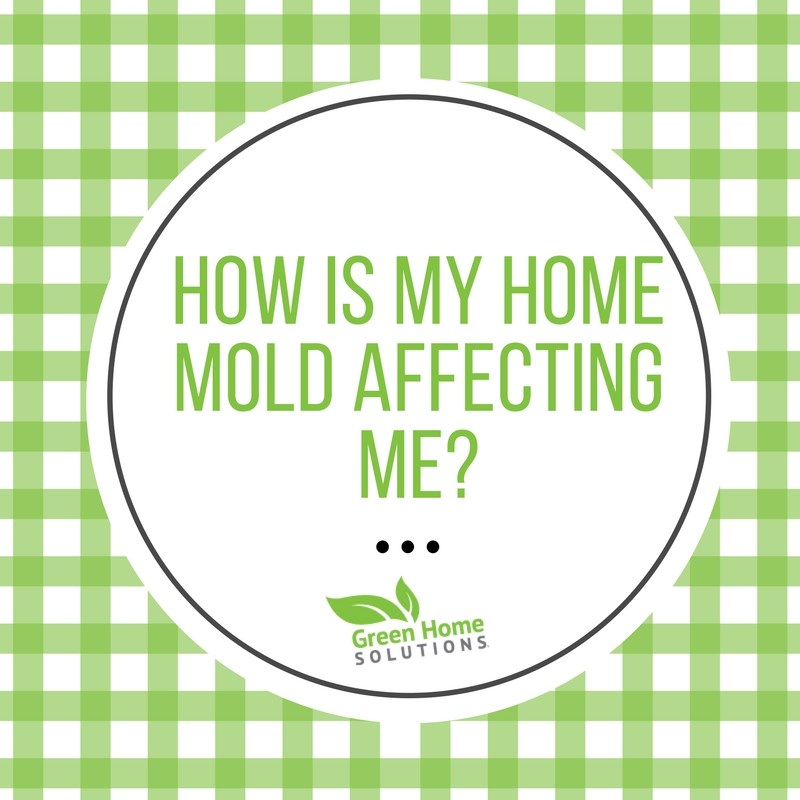 Health Effects of Living With Mold Growth in the Home
Exposure to mold can be especially detrimental to children, seniors, and individuals with a compromised immune system, but even the healthiest individual can be at-risk for health consequences from inhaling dangerous mold spore. In 2004, the Institute of Medicine (IOM) published information that showed that there was adequate evidence to link indoor mold exposure to health issues in normally healthy adults and children, and additional research has backed up their findings for the health consequences of consistent mold exposure in homes.
A few of the ailments that are associated with mold growth in the home include:
Upper Respiratory Symptoms: Runny and congested noses, nasal discharge, throat irritation, and sneezing have all been linked to indoor mold exposure.
Lower Respiratory Symptoms: Mold can also affect the lower respiratory system and cause symptoms that include coughing, wheezing, and shortness of breath.
Allergies: Hay fever and other allergy-based symptoms can be triggered by mold, as well as severe or life-threatening reactions in certain sensitive individuals.
Asthma: Not only can mold exacerbate the symptoms of asthma, but studies have also shown that children in a mold-infested environment are at a higher risk of developing the condition.
Hypersensitivity Pneumonitis: In those susceptible to the condition, Hypersensitivity Pneumonitis (HP) can develop which may cause severe symptoms and flu-like illness.
With the risks associated with mold growing in the home, it is essential to get remediation handled quickly to protect your property and the health of your family. Some mold growth may not even be visible to the naked eye by being concealed in air vents, duct work, and the walls of the home so working with a trusted, experienced professional is the safest course of action during the removal process.
Properly Treating Mold Growth for a Healthier Home
After learning about the harmful effects of living with mold, many homeowners decide to take on the chore of getting rid of the offending mold spores on their own to save time and money in the process. Unfortunately, this not only leads to dangerous conditions and increased exposure, but it can also cost you substantially more in the long-run if the mold isn't properly eradicated.
Choosing an expert mold remediation company to handle your household problem is always the safest course of action, and when you're ready to take the first step towards a healthier indoor environment, you will want to:
Contact a Professional: Not all mold removal companies are created equally, and you'll want to make several calls and receive multiple estimates before committing to a provider for mold remediation.
Research Treatment Methods: While some companies use harsh, toxic chemicals to remove mold, this only adds to the problem. Green Home Solutions, on the other hand, utilizes EPA-certified, plant based treatments that are perfectly safe for your family when used as directed.
Take Preventative Measures: Getting rid of the mold growth is only half of the battle! You also need to choose a company that can help you identify where the problem was coming from and provide you with solutions for preventing future mold growth.
If you find that you're constantly sniffling, sneezing, and coughing, it's time to investigate a little further into whether or not mold may be affecting the quality of the air inside your local home! When you want professional help, guaranteed results, and fast, affordable service, Green Home Solutions is here to provide you with full-service support for ridding your home of the dangers of mold. Just give our expert technicians a call today to get started!